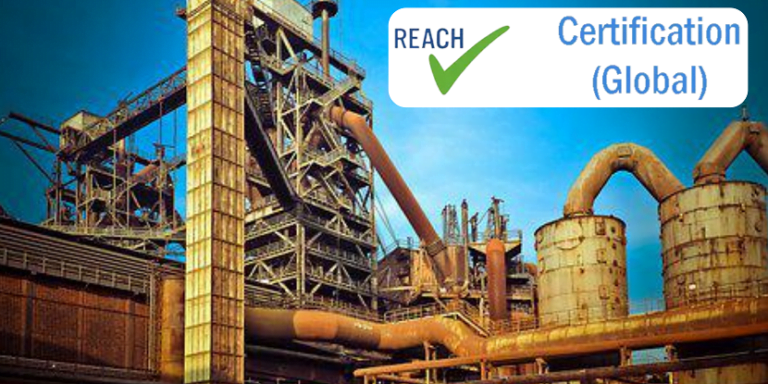 The "Chemicals (Management and Safety) Rules" are the country's national chemical legislation or INDIA REACH. Recently, the Government of India released the Draft Chemicals (Management and Safety) Regulations, also known as "India-REACH" (or ICMS Rules or CMS Rules), which amends the 1989 MSIHC regulations for the manufacture, storage, and importation of hazardous chemicals and the 1996 CAEPPR regulations for chemical accidents. Sections 3, 6, and 25 of the Environment (Protection) Act of 1986 grant the authority for these regulations (29 of 1986).
A Brief About REACH Certification in India
Registration, Evaluation, Authorization, and Restriction in the use of Chemical Products are referred to as REACH certification. In the European Union, this rule (EG 1907/2006) was first implemented in 2006. For produced and imported chemical goods and substances into the European Union, this certification is essential. The REACH certification sets international standards for the regulation of chemical industry law.
Following the adoption of REACH, all sectors involved in the production and import of chemicals into the European Union will need to make sure that their compounds are registered. This would only apply to businesses that produce more than one tonne of chemicals annually. To raise environmental protection requirements and lower the number of dangerous compounds entering the environment, REACH certification was created.
The European Chemicals Agency (ECHA), which has its headquarters in Helsinki, Finland, is the leading REACH certification body. When corporations from the EU and other countries import chemicals into Europe, this accreditation will be important. As a result, this law will also have an impact on businesses beyond the EU.
Regulators of REACH Certification
ECHA is the primary regulatory body for REACH certification. When the European Commission published a White Paper on the chemicals strategy used in the EU, this became abundantly evident. The institution advocated for the requirement of regulation for the entry of chemicals into the EU when the European Committee put this White Paper into practice.
This White Paper was adopted by the European Parliament and went into effect in 2007. The EU adopts this legislation (EC 1907/2006). The CLP regulation (Classification, Labeling, and Packaging of Chemical Products) is another pertinent rule. International recognition is granted to this law and the REACH certification.
Materials That Are REACH Certified
All entities that are involved in the supply chain may be subject to REACH certification. The following compounds might fall under a specific kind as defined by REACH:
SUBSTANCE: One can think of a material as a particular chemical element. The definition of a substance would also include certain compounds. These components can be utilized in the production of certain compounds (example: formaldehyde). All elements employed in the creation of the finished product, such as purities, raw materials, and impurities, are referred to as substances. Because a solvent may be removed from a product without significantly altering it, solvents would not be classified as substances.
MIXTURE: A combination of two or more components to produce a particular product or solution is referred to as a mixture. To create items like paints and inks, such combinations may combine one type of mixture with another. However, if a constituent used to make a certain combination is not covered by REACH, registration may not be necessary. The scope requirement, however, only applies to combinations with a tonnage greater than one tonne per year.
ARTICLE: It is considered to be a manufactured object with some sort of physical design. Toys, fabrics, apparel, and other accessories are examples of such goods. If a substance or mixture is utilized in the production of the goods and it meets the requirements for registration under the REACH certification, it must be registered.
REACH Compliance India
India REACH compliance certificate can be obtained by overseas manufacturers and firms who appoint a registered representative in India to represent them and complete the registration requirements. The greatest alternative for international manufacturers is Induce India, which also provides the finest services for regulatory compliance. All of your certification needs are met by our vertical compliance evaluation, which comes with the certainty of a thorough registration process and simple processes.
When the following; comes into effect, the Indian REACH Regulation is applicable;
Manufacturers in India

Chinese Importers

Indian agent appointed by foreign manufacturers is an authorized Indian agency.
Essential Requirements For REACH 
ANNUAL REPORT AND NOTIFICATION
All priority and dangerous compounds, both new and old, must be reported to the authority in amounts of more than one tonne annually. A safety data sheet (SDS) and other information stated under the rules are also necessary. A notification number and notification receipt will be sent after successful submission.

Each notifier of a material subject to notification is required to update the data they have provided. This update shall include any modifications or additions to the information supplied at the time of notification within 60 days, as well as information on the actual quantities of drugs placed on the market during the preceding calendar year. Both the yearly report and the notice are subject to a government fee.
SIGNING IN FOR REACH
If they are utilized in amounts of more than one tonne annually, 750 List II priority chemicals listed in Annex II must comply. Upon notice, more fabrics will be added later. Less than one tonne of a substance per year may also need to be registered. 1.5 years have passed after the chemical was added to List II before the registration period begins.

Similar to EU REACH, India's REACH certification process calls for the submission of a technical file and Chemical Safety Reports (CSR) that include Exposure Scenarios (ES). Test reports from NABL (National Accreditation Board for Testing and Calibration Laboratories in New Delhi) or a GLP accredited laboratory is necessary for Annex VII information. The current test data should be taken into account before fresh ones to prevent repetitive testing.
1.5 years after inclusion in Appendix II, the intermediate registration must be submitted. Following a successful submission, the registration certificate and a registration number are both assigned. Registration rates are determined by tonnage, with improvements and lower fees available to MSMEs (micro, small and medium-sized enterprises).
Control of Priority Substances and Hazardous Chemicals During Import
Priority substances and hazardous chemicals importers must apply at least 15 days before importing after satisfying all applicable reporting and registration requirements.
Name and address of the Indian recipient of the package.

India's entrance point 

Transit method from exporting nation to India

Imports of priority compounds or dangerous chemicals, with their names and numbers;

The safety data sheet and any other pertinent details on the product's safety.
The importation of a chemical may be halted if the competent authority, Chief Dock Safety Inspector, appointed under the Dock Workers (Safety, Health, and Welfare) Act of 1986, believes that doing so would be unsafe or environmentally unfriendly.
Examining The Substance
The applicant has to be aware of the qualities the chemical possesses before submitting it for registration. The Regulations' Annexes VI and VII normally provide the information.
Information on substances: The chemical composition must be described in the registration dossier and must be documented when the applicant (producer or importer) submits the information. The following details on the chemicals must be provided:
Information about the compounds' characteristics.

Whatever kind of risky traits the chemical possesses.

Recognize the requirements for substances' levels of hazards for the risk assessment procedure.
Chemical species: The following categories apply to chemicals:
Physical-chemical risks

Dangers from toxicology

Risks to the environments
Information That Is Required, Per Annexure-VI
The Reach certification's Annex VI stipulates that the following details on compounds must be provided:
Information on the applicant, information on the products' ingredients, information on the production and use of another substance form, 

Information on the health and safety requirements for another substance form, and

Information on the amount of toxic or harmful exposure based on tonnage requirements is all examples of information that may be provided (1 ton to 10 tons).
How Can Induce India Help You in Getting
REACH

Certification?

REACH, or the Synthetic Administration and Wellbeing Rule is the following administrative test in India for all compound substance producers, shippers, and unfamiliar elements. Arrive at warning and enlistment endorsements are expected from the division by all makers, shippers, and AIRs of existing and new substances.

Induce India's regulatory master can help you in agreeing with REACH Certification in India and other synthetic warnings all over the planet. We offer REACH services as well as broad administrative help for organizations.

Induce India stands out as the top choice for foreign manufacturers seeking the finest regulatory compliance services. Our conformity assessment division ensures that all your certification needs are met, providing complete assurance of comprehensive registration and streamlined procedures, eliminating any unnecessary complications.
Conclusion
Your new or current chemicals can be successfully guided through the REACH Certification in India procedure with the help of Induce India GROUP. The Department of Chemicals and Petrochemicals has made BIS Quality Control Certification mandatory for certain chemical products. Indian requirements must be met by quality. All chemical products are BIS-certified by Induce India, allowing importers and producers to have their goods authorized under legal requirements.
G-1, S 521-522, School Block, Near Laxmi Nagar Metro, New Delhi 110092

011-35720745
+91-7503304082
INDUCE INDIA official brochure to explore about all the services and products. Please download to explore.