Hassale Free MSME Registration In India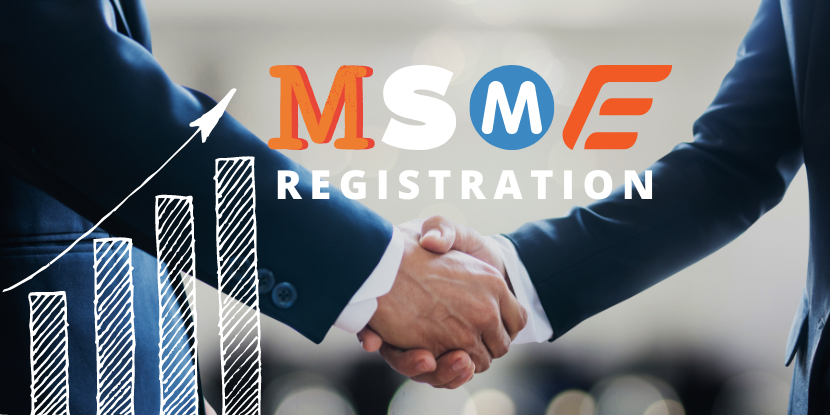 MSME Registration/ Udyog Aadhaar Registration-
The Indian government is in charge of developing and putting into effect rules, regulations, and policies on small and medium-sized businesses. The Ministry of Micro, Small, and Medium-Sized Enterprises, or MSMEs, oversees its regulation.
On October 2nd, 2006, the MSME went into effect, and it is currently in force all across the nation. Small and medium-sized businesses (SMEs) around the country will receive incentives, support, and resources to help them become more competitive in the market. It is commonly known that India depends economically on small and medium-sized businesses (MSMEs). Many small and medium-sized businesses are found in the MSME sector, which makes up a sizeable amount of India's GDP (SMEs).
The government created the MSME registration program, which is intended for both the organized and unorganized sectors.
Micro, Small, and Medium-Sized Enterprises (MSME) are referred to by this abbreviation. Small and medium-sized businesses (SMEs) are the foundation of emerging nations like India, according to the World Bank. According to official statistics, India's MSME sector is responsible for 95% of all mechanical units, 45% of the nation's total economic production, and more than half of the nation's export earnings. These businesses also produce more than 6,000 different sorts of items.
Classification of Micro, Small, and Medium Enterprises in India
With effect from July 1, 2020, the government will establish a new classification system for MSMEs in India that is based on an improvement in the definition and standards.
The criteria for who is considered an MSME in India are based on investment and turnover, and they apply to both manufacturing and services-related entities:
Micro: Micro units are defined as businesses with an investment of up to INR 10 million and annual revenue of up to INR 50 million.
Small: Businesses with a capital investment and annual revenue of up to INR 100 million are considered small units.
Medium-sized units are defined as businesses with a turnover of up to INR 1 billion and an investment of up to INR 200 million.
MSME-Criteria-India-July-2020 – The coverage and investment cap of MSMEs in India are governed by the Micro, Small, and Medium Enterprises Development (MSMED) Act, 2006.


In accordance with market and price conditions, the definition requirements for the two kinds of MSMEs recognized by the Act—manufacturing, and services—have been rationalized on an equal basis.
Prior to May 2020, the MSMED Act, of 2006 had set different definition requirements with very low financial restrictions for MSME businesses that performed manufacturing and services. To address the effects of the COVID-19 pandemic, modifications to these requirements were announced in the first tranche of the Atmnirbhar Bharat economic package on May 13, 2020.
Difference between MSME, SSI & Udyog Aadhaar?
Although the registration procedures for Udyog Aadhar and MSME are relatively similar, they are two separate programs. The Udyog Aadhar can be a quick way to register an MSME. So, as soon as you have your 12-digit Udyog Aadhar number, you may quickly apply for MSME registration.
 It would be a good idea to complete both the MSME and Udyog Aadhar registrations
SSI vs MSME in order for your company to benefit as much as possible. Between SSI and MSME, there are no distinguishing characteristics. To develop Small Scale Industries, the MSMED (Micro Small and Medium Enterprise Development Act, 2006) was introduced at the same time as SSI, or Small Scale Industries.
Basics Step to Guide on MSME Registration Process
As a government-sponsored technology, Udyam registration interfaces with the GSTIN database and the Internal Revenue Service. Businesses that are exempt from the application of the GST Act are not required to get a GSTIN in order to function.
Only entities that have registered under the GST framework are eligible to submit an application for Udyam registration.
Enrolling on the Udyam website will allow you to obtain an MSME Registration and the portal will not charge you anything in return for this service.
The code number for the registration confirmation will be provided in the confirmation message that will display on the computer screen after the application has been submitted.
The MSME ministry will deliver the MSME certificate or license following the verification process.


Required documents for MSME registration online
MSME registration online necessitates the submission of appropriate documentation. A PAN card and an Aadhaar card are required for MSME registration. You will not be required to submit any more documentation other than the mentioned documents above to participate in the registration process. The MSME registration platform will securely store information from government archives on annual turnover and investment concerning GST – PAN and other tax-related information that is directly related to your company.
Advantages of MSME Registration for Indian Entrepreneurs
Small and medium-sized businesses (SMEs) would be able to benefit from government programs with the help of Udyam registration.
To assist MSMEs, a Policy Credit for Public Procurement Credit Guarantee Scheme will soon be developed.
There will be a Credit Guarantee Scheme (Subsidy for Linked Capital) available.
Businesses that were designated as MSMEs would receive preferred credit from banks.
It is simpler for MSMEs to participate in the bidding process when they use e-tenders because they are eligible for a fee waiver from the government and a reduction in the security cost.
This helps to guarantee that the government will pay for barcode registration.
Guaranteed A number of tax-saving programs offer direct tax exemptions.
Reduced costs are required to acquire ISO certification.
MSMEs may be qualified for loans with interest rates as low as 1.5 percent if they meet certain criteria.
The alternative Minimum Tax (MAT) credit can now be carried forward for lengthy durations and has been increased from ten to five years.
Holders of MSME registration certificates must first register as a small business company with the federal government of their particular state in order to be eligible for any intellectual property registration benefits.
The Udyam registration portal provides access to the Government e-Marketplace and e-tendering options for MSME registration certificate holders.


A one-time fee will be assessed to small and medium-sized businesses for resolving payment issues with their suppliers.
Government MSME Schemes for Entrepreneurs
Memorandum for Udyog Aadhar
The government assigns a 12-digit number called an Aadhaar card to each and every person. The Aadhaar card is a must for this. The benefit of signing up for this program is the simplicity of obtaining government credit, loans, and subsidies. Both online and offline methods of registration are available.
No Defects Zero Impact
According to this concept, manufactured items for export must meet a particular standard to avoid rejection and being returned to India. The government has started this program to achieve this. If the items are exported, they may be eligible for discounts and other benefits.
Quality Management Standards and Quality Technology Tools
Standards for Good Management Practices and Good Technology Tools. Participating in this program will assist micro, small, and medium-sized businesses in understanding and implementing the quality standards that must be upheld in conjunction with new technologies. Through numerous seminars, campaigns, activities, etc., this plan conducts initiatives to educate businesses about the new technologies accessible.
System for Monitoring Complaints
It is advantageous to register under this program in order to address the grievances of business owners. The owners of the businesses can use this to check the status of their complaints and to open new ones if they are not happy with the resolution.
INDUCE INDIA official brochure to explore about all the services and products. Please download to explore.